Two Cheers for Cheerios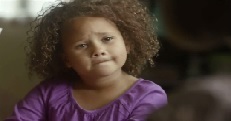 Posted on June 5, 2013 by Jonathan Symonds
Late last week someone on my team gave me a heads up on the Cheerios ad featuring an inter-racial couple that was generating some buzz.  My sense was the story wouldn't make it through the weekend given the data we had on the two ads (a :15 and a :30) so we passed on commenting.
Here we are several days later and it's still in the news.  Better late than never and a humble reminder to hire smart and listen well. 
First of all, the ads are great.  The :30 second version is #2 in cereal in 2013 and 6th of 50 ads over the last twelve months.
 The :15 second version was also a standout, coming in 6th this year and 15th in the last twelve months.

The ads skewed female and even the :30 was not enough to move males 50+.  This is not terribly surprising – over the past year males 50+ have the lowest scores in cereals – close to 50 points below their age/gender counterparts

This :30 ad achieves high Attention and Likeability scores, 9% and 11% above the current 90-day norm for cereals – as well as strong Relevance and Desire scores. The ad also had positive Emotional impact earning an Emotional Sentiment Index of 61 – not unusual for Cheerios who's ESI norm is 60 – but outstanding when compared to the all-brands, 12 month Emotional Sentiment norm of 46.
The real question, however, comes around what people thought of the presence of a mixed race couple.  Clearly, the "internet" thought something of it – 2 million YouTube views and counting – but it was the need to disable comments that took so many by surprise. 
Where is this shrill voice of intolerance coming from and why does it seem so loud?  Well because online conversations are just that – louder, more shrill, more polarizing than what we see in everyday society.  This is not a new finding.  This is the double edged sword that is social media and it highlights the challenges of using social media to make decisions for your brand. 
Fast. Check.
Large sample. Check.
Representative sample. Not so much. 
Social media is the squeaky wheel of the Internet.  The haters and the defenders were out in equal force on these ads – and while they generated a lot of noise and several thousand articles, no one really learned much.  Unfortunately, the data is no longer available on YouTube to do a sentiment analysis to compare with – but we have over 1,000 respondents and over 529 verbatims to work from. 
Our sample is balanced for age, gender and income to the US Census so we feel pretty good about how representative it is.  Further our "as it falls" ethnicity sample for these two ads includes 9.5% African Americans, a few percentage points shy of the US Census estimate of 13.1%.  Again, reasonable.  African Americans generally score advertising higher than their counterparts – significantly so, but this ad was in the stratosphere for them – registering north of 700 for both the :15 and the :30.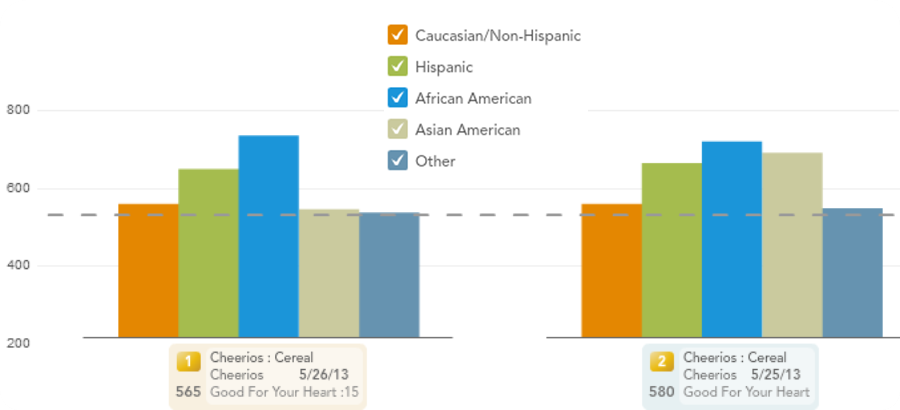 Of the 529 verbatims collected for both lengths of "Good for Your Heart", 16% of respondents use "Cheerios" in a predominantly positive way. Below is the word cloud for the combined ads.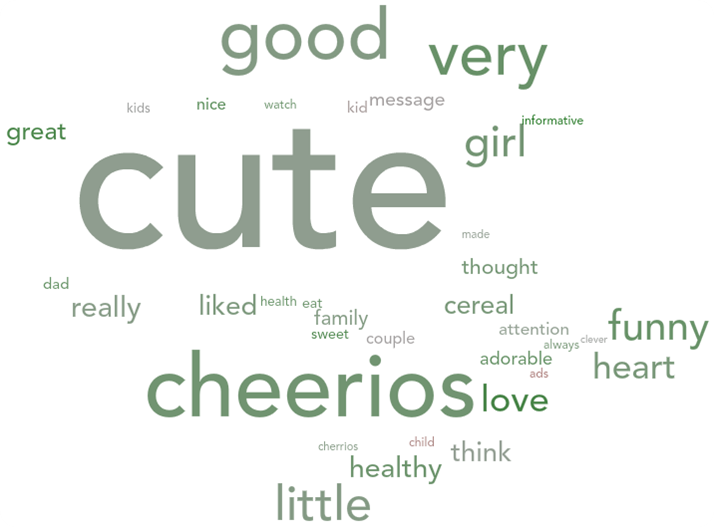 Filtering the verbatims for those who specifically identified the "couple", we see the majority did so in a positive way as well – despite scores that run the gamut.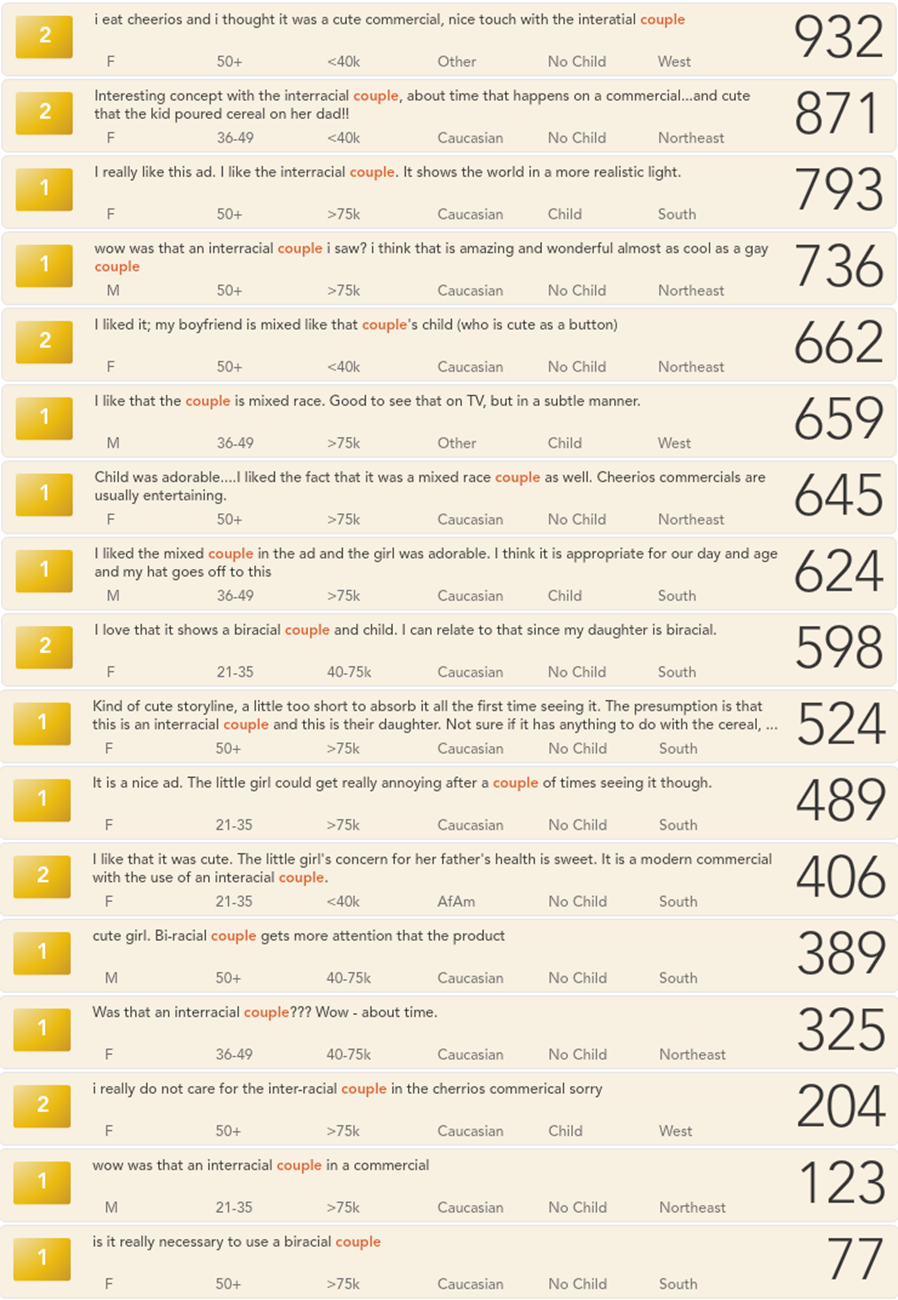 We have grabbed every response that used the term "black", "white, "couple", and "racial" and the total percentage of usage for those who responded with a verbatim was less than 5%. Of those responses only two mentioned the use of a multiracial family in a negative way. These specific verbatims can be read here.
This is not the first time a brand has been on the wrong side of a social media firestorm.  One of the best known cases has to do with Kraft's Jell-O division.  Jell-O wanted to introduce a new snack for adults and hired brilliant but edgy CP+B to do the campaign for the venerable brand. 
CP+B had completed four of the six commercials in the series when the first ad aired to a brushfire of criticism on social outlets like Facebook where 250,000 folks joined the "Boycott Jell-O" group to protest the ad's parenting message.  Kraft had not seen anything like it before and, coming on the heels of CP+B's well publicized issues with Groupon in the Super Bowl made for a series of very interesting conversations.  We were able to provide Kraft with some critical data during these critical hours – data that showed that that ad was actually quite good but data that also showed a small contingent of haters.  The key was that the contingent was just that – small.  Social media had given them an outsized voice – but not a representative one.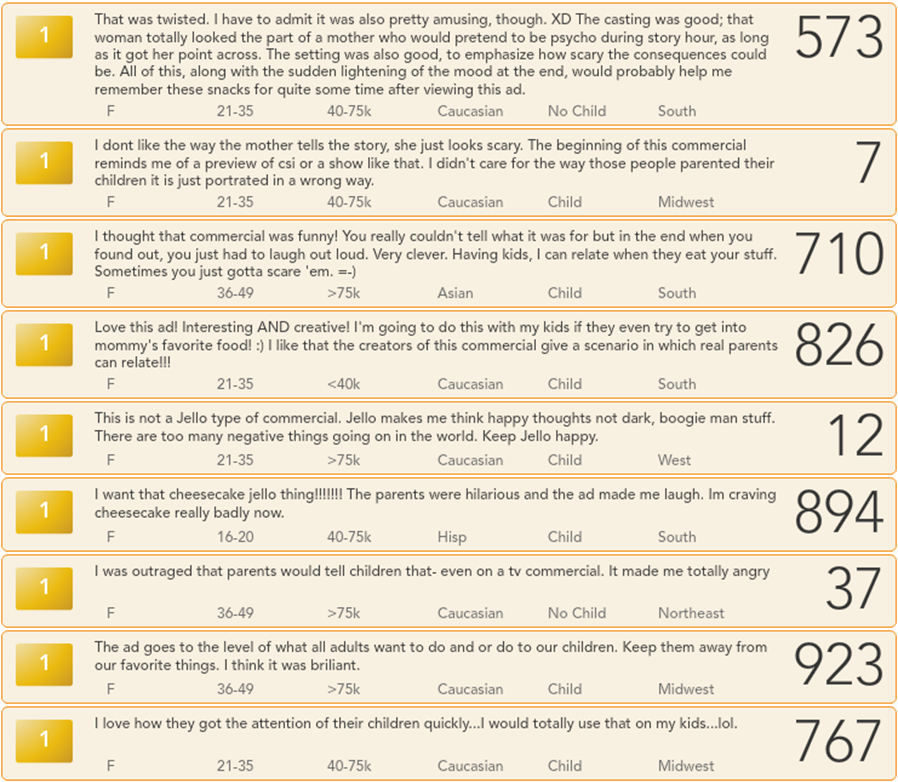 Jell-O made some adjustments to the rest of the campaign to tone it down slightly but left the creative soul intact and the results were spectacular – the second ad remains the highest Jell-O ad we have in the system:

So what is the take away here?  First off, more information is better than less, unless of course the more information is hopelessly biased or slanted.  This is where research quality comes into play and why it matters.  A diverse and representative sample is the type of information you want more of – and today at least that remains the Achilles heel of social media, relegating it to loud but unreliable alarm.