Last week, Samsung began airing its latest appliance spots, including a 60-second version of "Family Hub: Birthday Party." The ad, created by McKinney, showcases the amazing capabilities of this new smart refrigerator by weaving the features into the chaotic life of married celebrity couple Kristen Bell and Dax Shepard. In their ongoing use of Bell and Shepard, Samsung has found a real-life couple consumers in their target audience can relate to, particularly by placing them in everyday situations.
"Family Hub: Birthday Party" performed astronomically well in Ace Metrix testing, garnering an Ace Score of 705. Ads are scored on seven fundamental measures that are most likely to influence consumer behavior, including likeability, attention, watchability, information, change, relevance and desire. These measures combine to give us the Ace Score – ranked on a scale of 1-950. Among the 50,000+ ads in our database, less than 1% have received an Ace Score over 700.
Let's look at what worked for this charming ad.
In the tough appliance category, delivering on the combination of being informative, highly likeable and driving desire for your product is difficult at best. Let's face it: in general, appliances are not as sexy as mobile devices. This ad manages to make a fridge highly desirable, while also helping to re-shape brand perception (the change component score, 762). Here is the Ad Personality, which represents how the ad delivers on these objectives.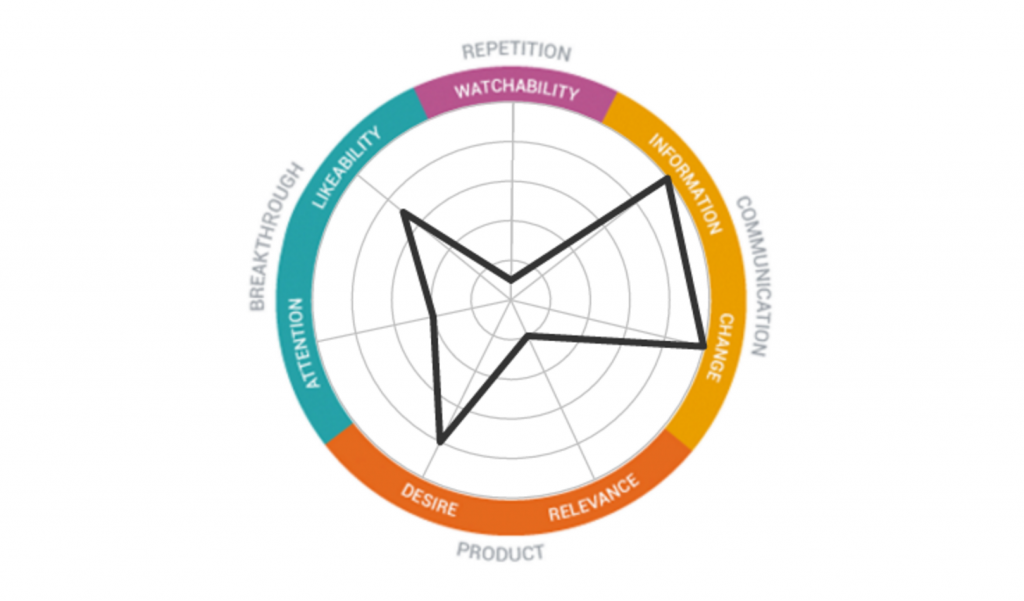 While many viewer comments mentioned the couple in the ad with affection, it was a very close combination of the Product (18%), Brand (17%), Visual Scenes (17%), and Characters (13%) that was named the Single Best Thing About the Ad. This too demonstrates the variety of appeal in this ad, and its ability to fire on many cylinders.
Samsung also shows they know their target audience extremely well. When Samsung began incorporating Bell and Shepard in their appliance campaign last year, they said they were targeting a new generation of homeowner. Using this real couple, situated in the everyday chaos that ensues for families, and focusing on innovative ways technology can help, the brand hits a homerun. The ad sees its highest performance among 21-35 year-olds, who gave it a score of 718. Among people with children at home, it received an astounding score of 733. Clearly, Bell and Shepard are as easy to relate to and entertaining. This word cloud is based on the comments of the coveted Millennial audience.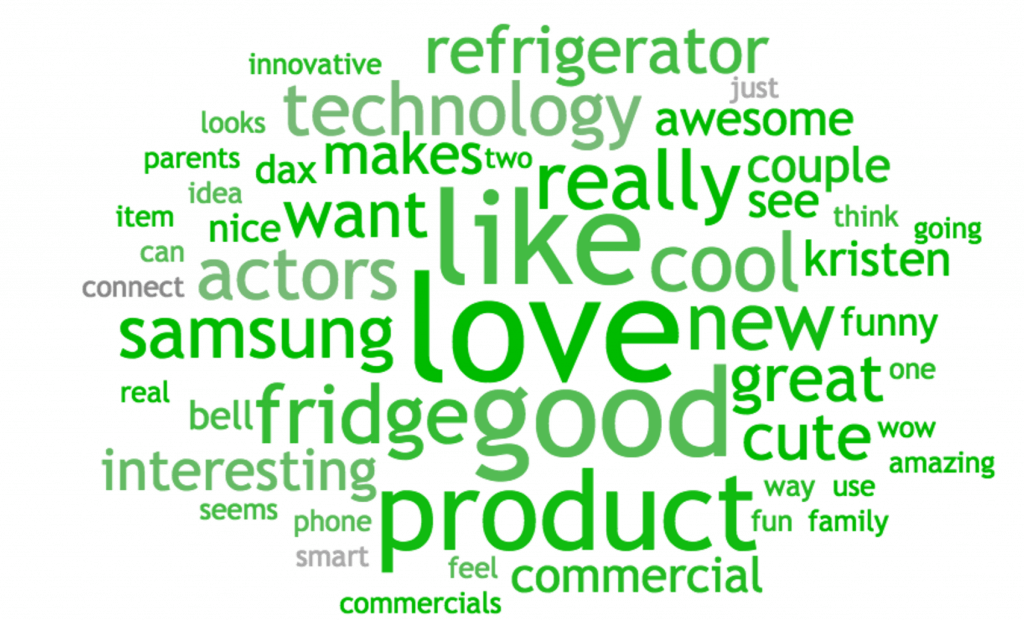 And here are a few of their verbatim remarks:
"I loved it. It sold me on the product instantly and told a nice little story that makes you connect with the ad more." (F21-35/No Child/South/895 Ace Score)
"I love it! I love Dax and Kristen Bell. They're so adorable. And that fridge is awesome!" (F21-35/No Child/Northeast/854 Ace Score)
"I have yet to see an ad that I didn't like that featured Dax and Kristen. They feel like normal parents that you can relate to." (F21-35/Child/West/851 Ace score)
"Great storyline developed to highlight the features and uniqueness of the product. Makes me want it!" (M21-35/Child/West/768 Ace score)
I mentioned earlier that Samsung found success using celebrities, which can be tough. In our study of Super Bowl ads over the past five years, ads using celebrities score on average 15 points below those without celebrities. More brands might want to mimic Samsung and McKinney's formula of using celebs in relevant and entertaining brand stories. That might be the secret to their success!