The first time I watched Audi's new "Sunday Drive" spot, I thought to myself "the station wagon has come a long way!" That said, not being a huge car aficionado, I wasn't really sure if what I was seeing was a station wagon, an SUV or something in between. Either way, one thing was crystal clear—the couple taking an off-road Sunday drive in the video is having a blast.
A modern twist on the idea of a leisurely drive on a Sunday afternoon, the suburban couple dons a couple of racing suits and helmets and speed around their town, "Allroad USA," stopping for coffee and an obligatory car wash. Billed by Audi as "combining functional practicality with premium off-road design" and setting a "new benchmark for the luxury wagon segment," it appears to be a family car on adrenaline. Eschewing the common tactics of touting safety and technology, the spot focuses solely on performance.
Created by Muhtayzik Hoffer, the 1:25 online and social spot outperformed the Luxury Auto category norm in every Ace Metrix measure except Watchability. Longer videos are expected to fall below the norm for this metric since viewers are less likely to want to invest that much time again. Where performance of this ad gets really interesting is when we look at how it was received by parents. The overall score is an astounding 62% higher among viewers with children than without. The Ad Personalities below show that the ad drives stronger Desire and is more relatable among this group. For the full viewing panel, Attention and Change are strongest, indicating viewers see Audi as moving in a new direction.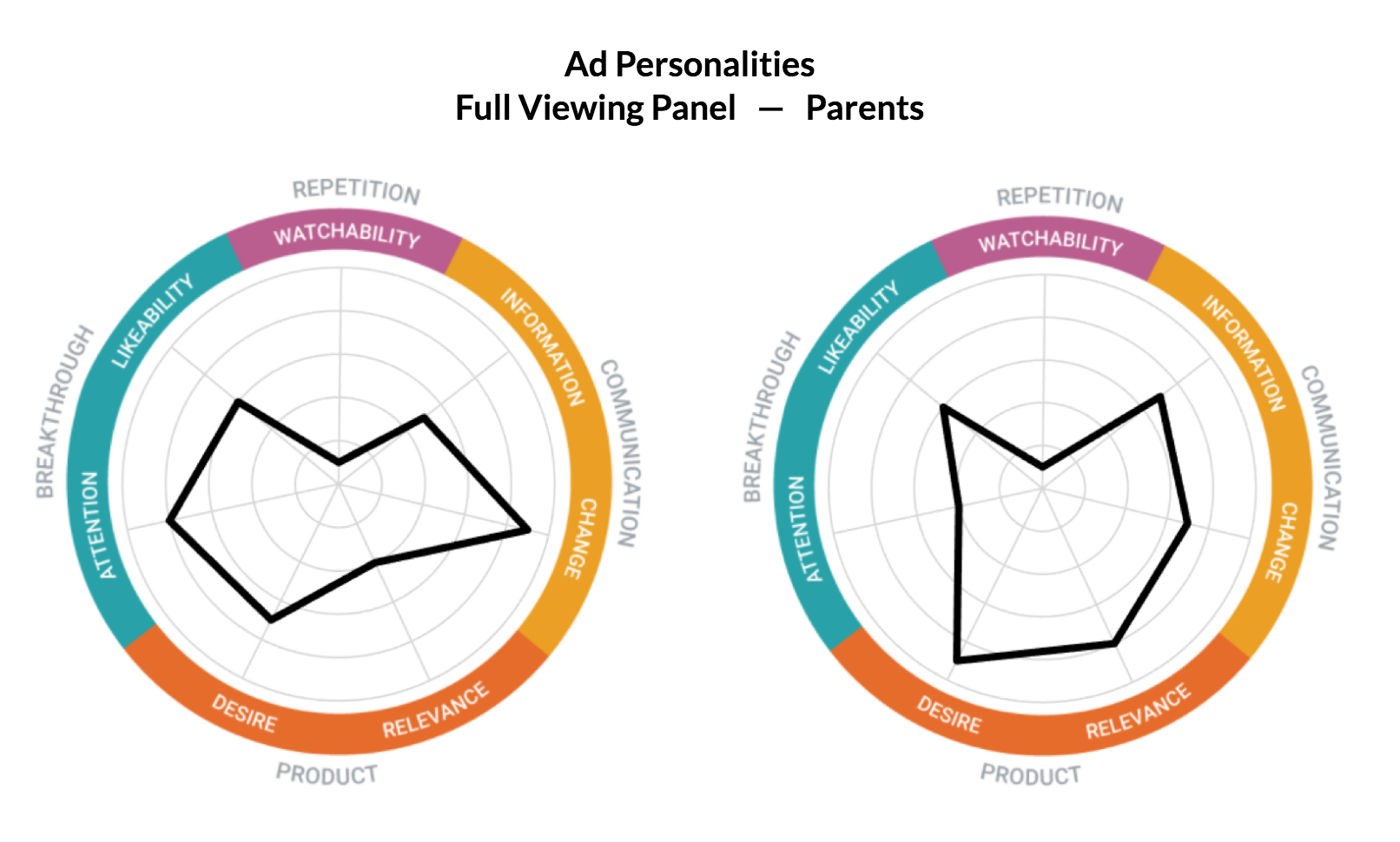 Some comments indicating how the ad resonated with parents, among whom it is in the top 4% of all luxury auto ads this year:
"It caught my attention. Makes me want to get information." – F36-49/Child

"I liked the funny take on the Sunday driver. It had some great shots of the car and it looked fun to drive." – F36-49/Child

"Love it! Exciting, fun, memorable, attention-grabbing, unique! Innovative! Adventure!" – F50+/Child
As mentioned above, this ad is about the driving experience and not specific features. It features a song, "Into the Wild," produced for the ad, and no dialogue. Additionally, 41% of viewers found the visual scenes to be the strongest creative driver in the ad. All of this adds up to what should be a highly emotive experience. The emotional word cloud below, derived from words tied to an emotion in viewer comments, shows overwhelming positive response (green). The brown words indicate some degree of negative reaction, while the words labeled "hook" indicate viewers were drawn to the attention-grabbing visuals. Said one viewer with a negative reaction, "thought it was pretty stupid. Typical car ad. No one ever gets to drive a car like that. Doesn't apply to real life. Guess I just don't get it. Doesn't tell you one good thing about the car." (F21-35/No Child)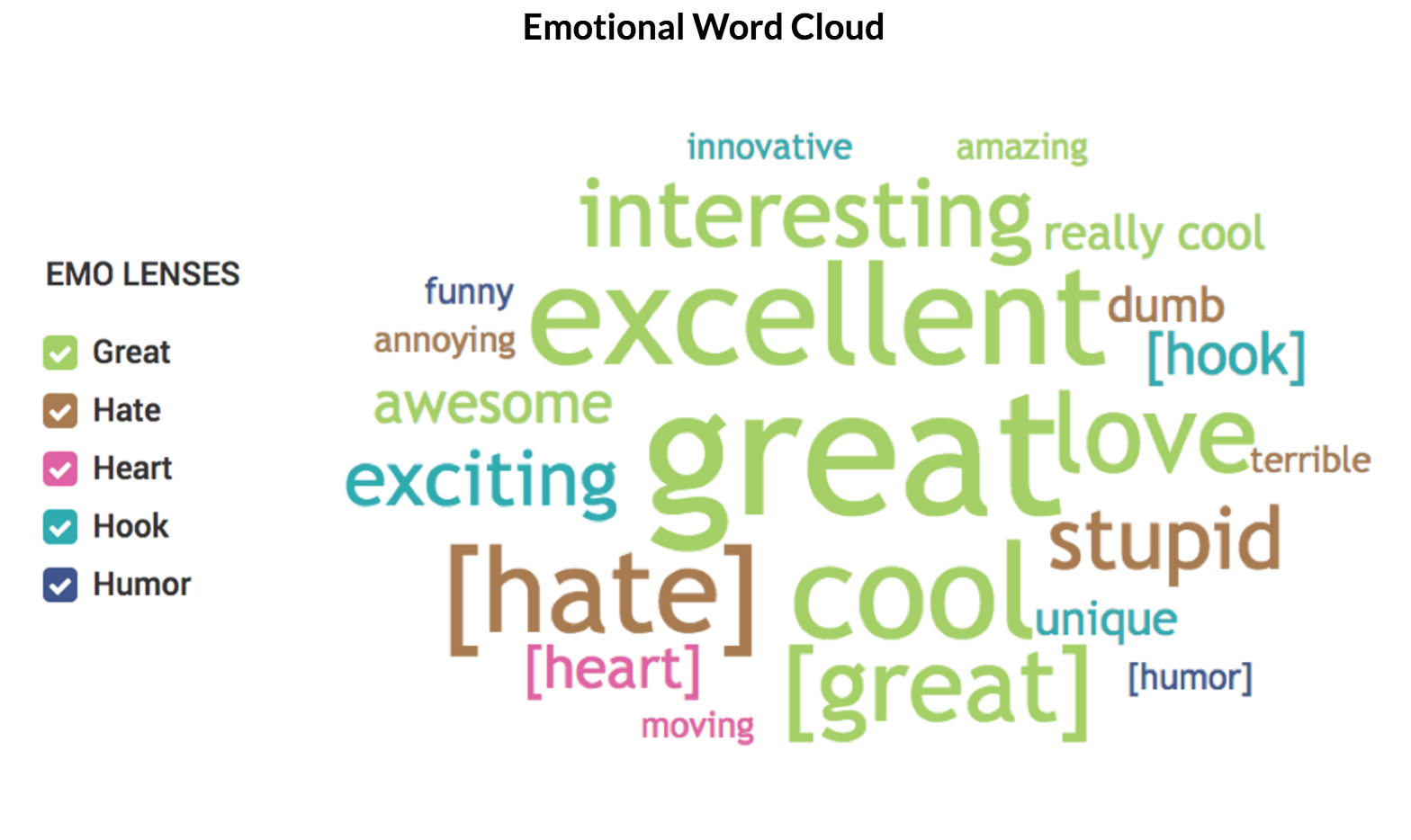 The success of this ad for Audi is elevated by the fact that 59% of the viewers expect to be in-market for a new car within six to 12 months. Additionally, 61% of all viewers said purchase intent increased after viewing this ad:
"Ohhhh yeah! I want to be in the passenger seat on that wild and super fun ride with the professional driver teaching me some of those skills. It makes me want to go take a look at that vehicle when I'm shopping for a new one. It also impressed me with the vehicle's superb handling and response." – F50+/No Child

"I love this brand. It is elegant and all-terrain vehicle." – M21-35/Child

"The ad was attention-grabbing. It makes me remember the product. I also like the phrase 'A little dirt never hurt.'" – M21-35/No Child
Another recent innovative Audi spot, "Desolation," for the R8 Sport Coupe, also featured dusty terrain and aspirational driving. That ad ranks slightly higher in overall score and drove more Breakthrough, but was not as strong in Communication as "Sunday Drive." It will be interesting to see what's next on the dusty road for Audi.
View this article on Campaign US.