These are the Top Brands of 2013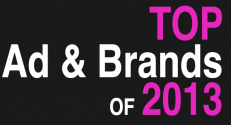 Posted on January 7, 2014 by Jonathan Symonds
2013 was a superb year for creative. It was a year marked by continued innovation, storytelling and better integration across platforms than ever before. 2013 was also the year where the 1-2 punch of web video and television really made an impact as brands used one medium to complement the other in ways we had not seen before – driving business outcomes across the spectrum – from retail to automotive.
Fittingly, in a year of great creative, it was an ad that debuted in the final week that took our Ad of the Year title. The Brand of the Year category winners were also impacted by ads debuting in the last week of the year. All told, our winners came from over 6,400 ads across 85 categories in 2013, representing more than 3.2 million consumer interactions.
While it's clear that the advertising landscape is undergoing seismic shifts, those very shifts only serve to underscore how important video advertising is to a brand's communication strategy.  Video's ability to inspire, connect emotionally, tell stories and convey features is without parallel and is what makes our job so enjoyable. 
That's where we come in – measuring the effectiveness of video advertising. We take every nationally breaking ad, as it airs, and have 500+ respondents, weighted to the census for age, gender and income, score them. We calculate the Ace Score based on the interplay (not average) of Persuasion (comprised of Likeability, Information, Attention, Change, Relevance and Desire) and Watchability (your likelihood to watch the ad again). We do it all within 24-48 hours of an ad's debut.  Feel free to read more about our methodology. The winners you find below are based solely on the opinion of those 500+ American consumers, not editors or writers subjectively choosing their favorites (informed as they may be).
Google Wins Ad of the Year with "Here's to 2013"
Google had an unbelievable year as an advertiser. "Here's to 2013" debuted after Christmas and is a reflective, inspirational look at the events of 2013 through the lens of Google Search. The :90 spot is signature Google – emotional and moving yet still shows off their products from voice to Earth and from video to search. With towering scores across all components, what stands out is the Relevance score – a whopping 49% above the Websites category norm. The 706 Relevance scores is fourth overall for the year, across all ~6,400 ads.
More about Google's winning ad >
Brand of the Year
Putting out a great piece of creative is imperative for driving consumers to purchase or to maximize a media budget. Debuting a portfolio of creative that lands you at the head of your category, however, is a different type of achievement altogether. For the twenty categories below, we've awarded Brand of the Year honors to the brands that had the highest average Ace Score in their category and put out a minimum of five unique pieces of creative. Our winners averaged nine ads for the year, and, surprisingly, we have only one repeat winner from last year (congratulations to Liberty Mutual insurance). We'll be getting into the details of all the brands in each category in our annual release of the Ace Metrix BLACKBOOK. Cross category insight is a specialty of ours and why the BLACKBOOK is considered the bible of the advertising industry – so with that in mind here is a snippet on each category winner as well as their top ad for the year: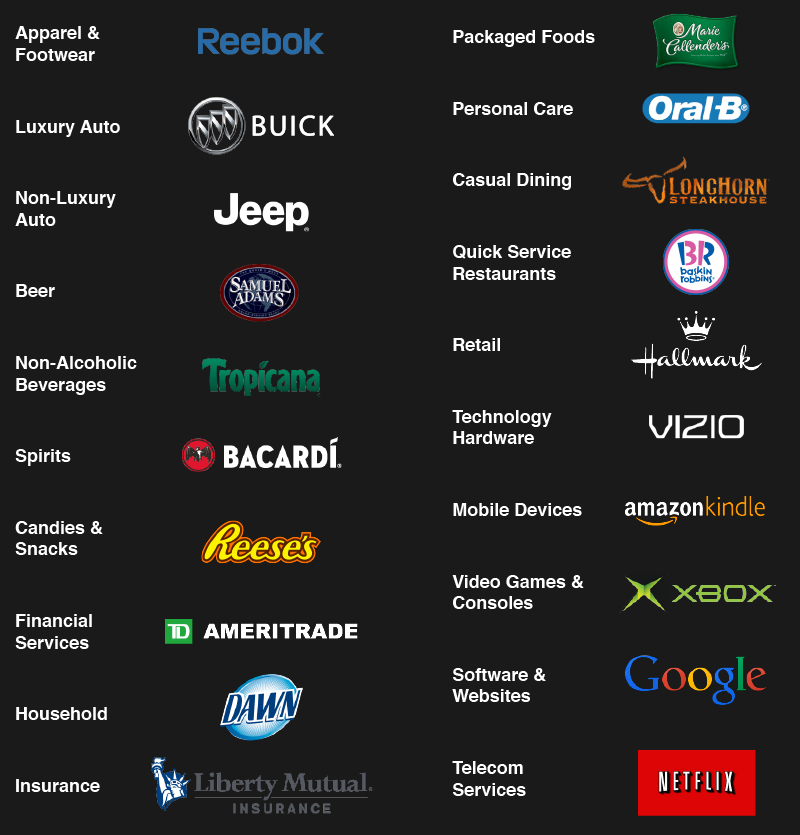 Apparel & Footwear

Reebok edged out Adidas and Wrangler to take the top spot in the category with an average Ace Score of 504. They won the category on the backs of their "Be Ready" campaign featuring Demarcus Ware and Rampage Jackson.

Auto  – Luxury

Buick took the Luxury Auto category – winning with a steady cadence of clever ads that focused on technology, performance and value. They edged out Mercedes and BMW for the top spot with an average Ace Score of 558.
Auto – Non-Luxury

Jeep took a big step on the road to recovery in 2013, just beating out Ford and Mazda for the crown in Non-Luxury Auto with an average Ace Score of 554. Jeep did it through inspiration both for the marque and the individual models. Their highest scoring ad debuted during the Super Bowl.
 Beer

Samuel Adams is tops in beer, marking the second year in a row that we've seen a craft brewer at the top of the list. Sam Adams focuses on the quality of their product and puts a personal touch on the ads which tend to feature company employees. Their vast fan base gets excited for seasonal offerings and, despite being in a category that isn't necessarily mass appeal, they managed an impressive general population average score of 512.
 Spirits

Bacardi edged out Smirnoff to take the crown in the Spirits category, earning an average Ace Score of 509. The spirits category doesn't do it with volume – no one brand produced more than 7 pieces of creative – they do it with storytelling and rich visuals. Bacardi in particular focused on the brand's rich Cuban history.
Non-Alcoholic Beverages

This category was won in the final week as Tropicana delivered two great ads to win the category with an average Ace Score of 617. Tropicana delivered a range of creative from highly visual spots to celebrity driven flavors.  While the come from behind victory was impressive, who Tropicana beat was just as surprising; not the likes of Coca-Cola, but rather Dunkin Donuts Coffee & Tea, Lipton and Coffee-Mate. Something to keep an eye on in 2014.
 Candies & Snacks

The perennially high scoring category went to Reese's this year, edging out Hershey's, Oreo's and a host of other brands. Reese's did it with an Instagram friendly :15 piece. The ads were incredibly simple but ridiculously clever. 
Financial Services

On the other end of the spectrum, Financial Services is not a high scoring category for a variety of reasons. Still, the category marked the return of large financial institutions to the list. The head of the table was TD Ameritrade, beating out Fidelity, Wells Fargo, Citibank and JP Morgan Chase for the top spot with an average Ace Score of 541. TD Ameritrade got there by virtue of its storytelling and more recent Olympic sponsorship ads, which both inspire and inform.

Household

Household posts exceptionally high Relevance scores among consumers and is among the most competitive categories from a scoring perspective. Dawn takes the crown in the category, beating out Ziplock and Swiffer with an average Ace Score of 610. Dawn's wildlife campaign is a winner, and they have successfully reprised it year after year, keeping it fresh for consumers. They do it again in 2013.
Insurance

Liberty Mutual gets the repeat in the Insurance category, the only brand to do so. They win comfortably too, earning an average Ace Score of 564 and beating out Nationwide and Farmers for the top spot. Liberty sticks with its successful "Humans" campaign augmented with better branding in 2013.
Packaged Foods

Marie Callender's  takes the highly fragmented, ultra-competitive packaged foods category with an average Ace Score of 573. Marie Callender's is a brand that focuses on its savory products and ingredients and succeeds handsomely in the process.

Personal Care

Dental products were the winner in 2013. Oral–B won the category in a landslide over Crest and Colgate, partially due to the fact that Dental is less polarizing than cosmetics or shaving cream. Still, with an average Ace Score of 583, Oral–B gets a clean bill of advertising health from us.
Casual Dining Restaurants

Sell the sizzle has been a mantra in advertising for quite some time now, and no one does it better than Longhorn Steakhouse. Their ads were a series of steak, steak and more steak with an occasional reference to lunch and earned the brand an average Ace Score of 618.
Quick Service Restaurants

Baskin Robbins rode a highly visual new campaign to the top spot in QSR, outpointing perennial star Pizza Hut and newcomer Panera Bread. Like their friends at Reese's, Baskin Robbins did it with media friendly :15s for an average Ace Score of 594.
Retail 

Retail is a mix of emotional and rational advertising. We saw that firsthand in our holiday analysis. Hallmark does emotion as well as anyone and their brand average for our Emotion score is more than 30% above the average brand. Hallmark's average Ace Score of 581 was more than enough to take the top spot from Best Buy and Walgreens.
Technology – Hardware 

From an upstart brand to the head of the pack. That is the story that Vizio has written in just over a decade. They cap that achievement with a BOY award in 2013, beating out Samsung, Microsoft and Intel in the process with an average Ace Score of 609. 
Technology – Mobile Devices

Kindle delivers a bit of an upset in the Mobile Devices category earning the number one spot with an average Ace Score of 578. Kindle's win is paced by exceptional consistency across its ads with a range of just over 100 points. This stands in contrast to heavyweights Samsung and Apple whose years were marked by big hits and big misses. It's worth noting that LG came in second and Windows Phone third. Perhaps this isn't a two brand race in mobile phones afterall.
Technology – Software and Websites
As we noted earlier, this was a huge year for Google and they top the Software and Websites category with an average Ace Score of 570. Both on an individual ad basis, and on a brand basis they are producing winner after winner. Interestingly, Microsoft is in the mix too with Windows and Bing. Here is another Google ad, this one from the beginning of the year.
Technology – Video Games and Consoles

We predicted that 2013 would be a comeback year for consoles – they were among the worst performers in 2012. Microsoft continued its resurgence across its brands by taking the category with the Xbox brand which earned an average Ace Score of 591. What is surprising is how handily they did so – beating archrival Sony by 80+ points. 
 Telecom Services

This is a bit of a stunner but reflects what the market is telling us – Netflix takes telecom services with an average Ace Score of 547. That includes both the wireless guys (AT&T, Verizon, T-Mobile) as well as the TV guys (DirecTV, Dish, Fios). How did they do it? With content of course – effectively showing the various shows that are available and how that can benefit the consumer.